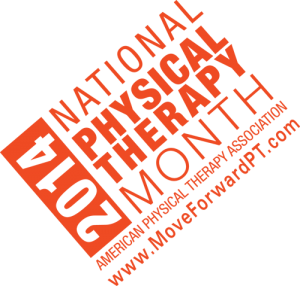 When it comes to national health observance months, most people know that October is National Breast Cancer Awareness Month. The pink ribbon crusade is very prominent and has proven to be quite powerful in the fight against breast cancer. However, October is also National Physical Therapy Month. Conjointly, physical therapy plays an important role in the recovery of breast cancer patients who sometimes develop lymphedema in the breast, neck, and the underarm regions after a mastectomy, lumpectomy or damage to or removal of the lymph nodes in that area. Therapy and exercise help to restore flexibility and strength in the neck and upper arm, and improves drainage of the lymph nodes.
Like the treatment for lymphedema and all the other ailments and injuries treated by modern medicine, physical therapists often play an unsung role in the health and recovery of patients young and old. National Physical Therapy Month is hosted by the American Physical Therapy Association (APTA) in October to acknowledge how physical therapists and physical therapist assistants can help people by improving their quality of life by restoring and improving their physical abilities. So it is certainly fitting to celebrate what therapists can do for all of us.
I have worked for and with rehab providers for nearly two decades and, unfortunately, as a weekend warrior, I've relied on physical therapy several times. Prior to and long after my anterior cruciate ligament (ACL) reconstruction surgery, physical therapy on my knee was just as vital to my recovery as the surgery itself. Furthermore and quite ironically, I just had rotator cuff repair surgery several weeks ago and will be starting physical therapy in the middle of October once again. I also had physical therapy on my opposite shoulder for a partial rotator cuff tear that did not require surgery. It was physical therapy alone that really helped to heal and strengthen that shoulder. I might be falling apart, but the surgeons coupled with the help of the physical therapists that are putting me "back together."
Professionally, I have worked with physical therapists for a long time. In particular, I have seen some pretty amazing results and recovery at Messiah Village in the Wagner Transitional Care Neighborhood. The physical, occupational, speech therapists, PTAs and OTAs from RehabCare do an incredible job helping residents reach their recovery goals for a variety of injuries and illnesses, such as stroke, hip and knee replacements, and degenerative and neurological disorders. In my previous role as Director of Admissions, we would admit residents that were very ill and, at first glance, had little chance of ever returning home. Amazingly, in many of the situations the therapists were able to motivate, treat and compassionately push residents to regain their strength, safety awareness and endurance. Furthermore, in conjunction with the physicians and nursing staff, they were able to help safely discharge that person home or back to their previous level of living.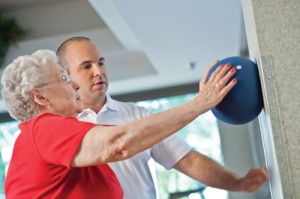 Physical therapists do not treat you chemically or surgically; however, the physical, emotional and even spiritual strength they provide clients and residents warrants celebration. Physical therapists deserve a lot of praise and recognition year-round, but here in October take an extra moment to say "thank you" and give them a big hug!
Click on the following links to learn more about National Physical Therapy Month, the American Physical Therapy Association (APTA) and MoveForwardPT.com. To learn more about inpatient and outpatient therapy available for residents and community members alike, please call 717.790.8201 or visit MessiahLifeways.org/rehab.