A Different Approach to New Year's Resolutions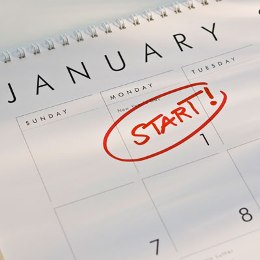 If you're like most of us, each New Year we come up with idealistic resolutions that are going to change our lives for the better. My personal favorites are, "I'm gonna lose 10 pounds, "I'm gonna eat healthier", or "I'm gonna take better care of myself". So we go into the New Year committed and enthused but several weeks later many of us crash and burn. Just ask your local gym how many people sign up for a membership in early January and by February they're never seen or heard from again. Resolutions can be a good starting point and are well intentioned, but the habitual failure may be due to the approach we use. Forcing yourself to go to the gym or quitting a bad habit cold turkey likely hasn't worked in the past. Young or old, we should consider taking a different approach to achieve our goals. Try something a little different this year. Instead of joining a gym, take ballroom dance lessons. It's not my cup of tea, but it worked for many of the Dancing with the Stars contestants. Instead of trying to committ to a rigid diet, take small steps like not eating after 7pm or not grocery shopping on an empty stomach. Particularly for our retired readers, let's examine some alternative resolutions for those ages 55 and better.
 Get a "Job"
You can still commit to losing weight this year, but attack it from a different angle. In some cases after retirement, people can become less active once they remove themselves from the hustle and bustle of full-time work. So this year to lose a few pounds and stay active, try volunteering or getting a part-time job. If you keep busy and stay involved, you can avoid winter sluggishness and stave off weight gain. We have many residents and family members who volunteer at Messiah Lifeways and are constantly on the go. The physical, social and emotional benefits of volunteering are tremendous. Also during the holidays stores hire part-time staff to handle the larger holiday crowds. Or throughout the year you can lend your talents and spirit to a job that is more gratifying than stressful. You can stay active and make a few bucks while you're at it.
If you'd like to learn more about volunteering, please call Lois Hutchison at 717.790.8203 or click on messiahlifeways.org/home/volunteer/ for volunteer opportunities at Messiah Lifeways. You can also check out RSVP of the Capital Region online to learn about volunteer opportunities available in the greater Harrisburg region.
Take the "Road to Healthier Living"
 A large part of New Year's resolutions revolves around being healthy and feeling good. In addition to seeing your family doctor on regular basis and taking your prescribed medications, taking control and managing your individual health concerns is paramount. As people age, the likelihood of developing chronic health conditions like arthritis, congestive heart failure, obesity and diabetes grows. Following your doctor's advice or listening to a concerned family member can be enough motivation to keep those conditions in check or even improve upon them. However, just like we struggle with eating well and exercising, chronic health conditions can get the best of you as well. So in order to manage these issues, it would be good to have someone in your corner to provide guidance and practical solutions to staying healthy.
Starting January 9 through February 13, 2013, Cumberland County Aging and Community Services is sponsoring a free 6-week seminar entitled "Road to Healthier Living" on the campus of Messiah Village. This educational workshop is open to residents as well as the general public and aims to:
-Help individuals take day-to-day responsibility for their care.
-Increase skills necessary for individuals to manage their diseases and work effectively with their healthcare professional.
 Participants will learn problem-solving and decision-making skills which will enable them to confront the ever-changing challenges of living with a chronic disease. Education about chronic disease, practical advice and action plans are provided by trained peers who themselves have conditions. To learn more about the class or to register, call 717.240.6110 or go to ccpa.net
Whatever you choose as your resolution this year, switch it up and make it count. To learn about more ways to stimulate your mind, body and soul contact the Lifeways Coaching office at 717.591.7225 or email coach@messiahlifeways.org.
Happy New Year!