Reaching retirement age has a whole new meaning for today's growing number of baby boomers, who are no longer giving up long workdays in exchange for afternoons on the golf course or weekends at a beach house. Instead, they are embarking on second careers that are not only about making a living but doing good for others as well.
Known as an encore career, this second vocation occurs in the latter half of a person's life. It strives to combine a paycheck and a sense of purpose for adults after retirement that have a passion for working with public service or non-profit groups. If you are a baby boomer looking for more than a sedentary retirement, there are many encore career options available, and Messiah Lifeways can help you get on your new path.
The Rising Popularity of Encore Careers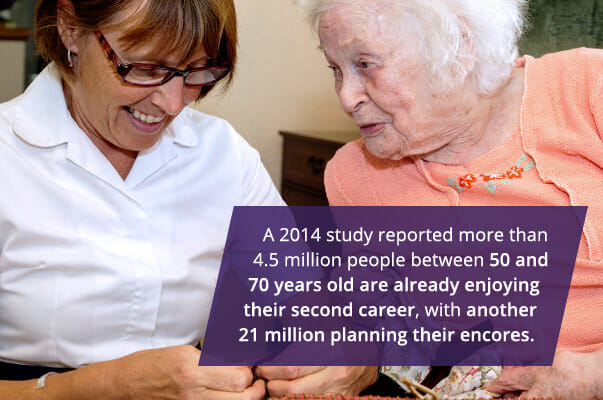 An increasing number of older adults are looking at this part of their life as a time to explore new opportunities and embark on encore careers. According to a 2014 survey, more than 4.5 million people between 50 and 70 years old are already on their second careers, with another 21 million planning their encores in the next few years.
It turns out many who are starting their "second act" are doing so not necessarily because they want to do something new, but because they want to do something that matters. More reasons why encore careers are on the rise include:
Americans are living longer and thereby working longer
The employment picture for baby boomers is slowly improving
These jobs fulfill a passion with a social purpose and are not really a necessity
Boomers don't want to outlive their retirement savings
Boomers are interested in volunteering or mentoring others
Boomers need the additional income
Boomers just want to continue working
Boomers want to make a difference in the lives of others
The popularity of this movement partly has been caused by a dramatic demographic shift of people older than 55 years, and it is estimated that there will be more than 100 million Americans older than this by 2030. This evolution was believed to be identified by Marc Freeman, a social entrepreneur and founder of encore.org, a non-profit movement that is helping older adults make a difference in their communities by utilizing their skills, passions and talents as they enter their retirement years.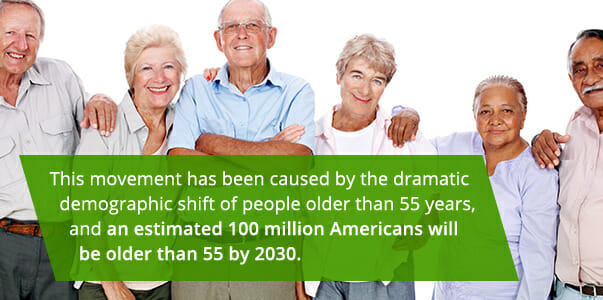 In-Home Care and Other Non-Medical Options as Encore Careers
While encore careers are available in a variety of sectors, homecare is one of the more popular options among seniors because it's rewarding and allows them to open up and work with people their own age. More and more companies today are matching seniors who need some type of assistance with seniors who want to help. While family caregivers do their best to care for their loved ones, accepting help is easier for those when their caregiver or companion is someone to whom they can relate to and who understands the desire to remain independent. Some of the types of in-home care jobs available include:
Senior care: From companionship to running errands, in-home caregivers make aging at home a viable option for many seniors. As a caregiver, you can help with cooking meals, running errands, doing laundry and cleaning. Most important, however, is the friendship and companionship you could bring another senior.
Care for chronic illnesses and conditions: You can also be trained to work with seniors who have chronic conditions such as ALS, Parkinson's disease, stroke, or heart and lung disease by stepping in and providing them the comfort and care they need when their main caregiver is away.
Degenerative disorders care: Having a degenerative disorder such as ALS or multiple sclerosis can make daily tasks extremely difficult. An encore caregiver can help with the typical day-to-day tasks, including bathing, grooming and getting dressed. The main goal is to keep the patient safe while in your care.
Surgery care: When a surgical procedure or treatment is required, having the help afterward to maneuver through some of the daily tasks is a blessing. As a caregiver, you can also help your client get through all the paperwork and have peace of mind that everything is cared for. The first few days after surgery can be made more bearable with the right companion helping you along the way.
All-ages care: With more adults working full-time, it's often difficult to take time off when a child or senior loved one gets sick. Consider a job where you fill-in as not only the child's caregiver when needed but a pseudo grandparent as well.
Typical Duties of an In-Home Caregiver
Non-medical in-home caregivers have a variety of duties they may be required to complete. Some basic duties include:
Following a care plan set up by the family or supervisor
Assisting with bathing and grooming
Basic meal preparation from grocery shopping to making meals according to your client's preferences and health needs
Light housekeeping
Medication reminders
Toileting
Transferring client to and from wheelchairs, toilets, automobiles, beds, etc.
Monitoring changes in client's health and alerting family or supervisor to any changes
Transporting client to doctor's appointments and other errands
Providing companionship which is probably one of the most important aspects of the job
Reasons to Consider Caregiving as an Encore Career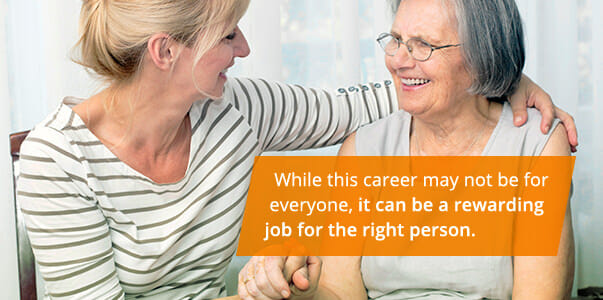 As our population continues to age, the demand for qualified in-home caregivers increases as well. While this career may not be for everyone, it can be a rewarding job for the right person. Caregivers for senior citizens are in great demand especially as more older adults resist being placed in an assisted living facility or nursing home. Here are a few ways to tell if caregiving is right for you:
You enjoy working with people, especially older adults where you can interact one-on-one.
You've enjoyed taking care of senior members of your family and want to share this passion with others.
You have the potential of making a difference in someone's life.
You always pitch in and help wherever you can.
You don't want a desk job, and you are still physically and mentally able to work.
You know you would want the same type of care if you needed it.
You take pride in your work and pay attention to details.
You can multitask.
In-home caregiving requires a variety of unique skills, but the benefits are plenty:
Hours are usually flexible, and you may work as few as five hours a week to as many as 35 hours.
You'll develop personal, long-lasting relationships with your clients.
You can be creative.
You'll work for a company that truly cares about you.
You can complete tasks for others such as cooking, shopping, participating in activities and being their companion.
You'll work in a warm, homey atmosphere.
How to Launch a Successful Encore Career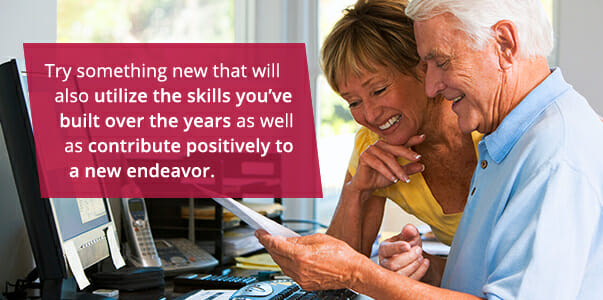 If retiring from your current job and planning a second career has crossed your mind, you will want to know how to make the transition successfully. Making the switch may be difficult, especially if you've worked in a specific field for decades. You may want to try something new that will also utilize the skills you've built over the years as well as the increased sense of being able to contribute positively to a new endeavor.
A transition such as this takes much thought, planning and even reinventing who you are and how you think. For some, this may take years, while for others it can happen sooner. It's best to remain confident and positive about your skills, experience and what you can contribute. There are several steps you as a senior can take to launch one of the most successful and best careers for seniors in Harrisburg:
Look inside yourself: You need to do some internal searching to find out what job you are most interested in and if you want to do something that is related to your previous career. You also want to think about what brings you the greatest satisfaction and the type of environment in which you prefer to work.
Understand exactly what goes into an encore job: Talk to others who are already in their encore occupations. You should learn about the different types of jobs available, and list the pros and cons of working for each type of job.
Assess your experience: Determine what key aspects of your previous job you want to bring to a new encore position. If you want to gain more experience, should you go back to school? Do you need a certification? Are background and drug tests required?
Identify your goals: Narrow down the possibilities of what you want to do to two or three choices. Do you want to be a part-time, full-time or contracted employee? Do you want to work in a large or small company, or do you prefer a non-profit organization instead? You may also want to consider how much pay is involved as well.
Stay up-to-date: It might be useful for you to be up-to-date on the newest technologies, including smartphone use, social media, emailing and texting. Seek the advice of younger people you know for help or check if your local library is offering any workshops on technology.
Join professional groups: Join conversations online and in person with individuals in the industry of your choice. Networking is a great way to meet people and helps you gain valuable insight into the encore career job market.
Research your choices: Spend time going over the different types of jobs available, including pay rates, benefits, vacation pay and sick time. You will also want to know how much physical labor is involved, as well as the availability of overtime.
Be open to new opportunities: It can take a while to land the encore career of your choice, so be patient. Try different things out, and volunteer in a few places first to get a feel for how the organization or job feels. This is also a good idea to do before you make a major commitment. Don't be surprised if a new opportunity comes your way.
Show off your energy and passion: If you're looking to start a new career, show you are motivated and ready to do the work. Do what you can to promote yourself, including taking care of your wardrobe and appearance. A great personality will go a long way, too.
Don't Waste Any More Time
If you are ready to make the jump from your longtime occupation into one of the many encore careers in Central PA, such as homecare or healthcare, contact Messiah Lifeways for guidance and additional information. There is more to life than after retiring, and we can help you find your new path.