Each year, November is recognized as National Home Care and Hospice Month by the National Association for Home Care and Hospice. During this month we feel it is important to take the time to celebrate and give recognition to the nurses, home care aides, therapists, and social workers who make a difference for the patients and families they support.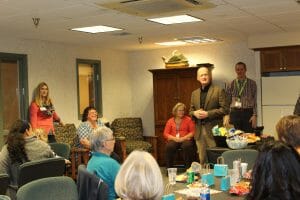 Home care is more than just a service we provide; for the majority of our home care clients, it means being able to remain independent and comfortable in their own home. Not only is home care important for the individuals who receive the care, but it is also extremely important for their family and loved ones who, in turn, receive peace of mind knowing that their loved one is safe and happy in the comfort of their own homes.
Below is a thank you message to our At Home team members from Curt Stutzman, Messiah Lifeways President & CEO:
Dear MLAH (Messiah Lifeways At Home) colleagues,
What an honor to celebrate you during Home Care & Hospice Month! I appreciate you all year-round, but it's especially nice to pause during November – the month of thanksgiving – and shine a light on the ways you carry out our mission and help so many residents and clients maintain dignified independence. The care you provide is unparalleled – traveling to residences and truly being part of the fabric of someone's life. You share some of life's most personal and poignant moments – meals, holidays, and more. Thank you for giving your time and talent to help so many families care for aging loved ones. A former client shared that the At Home team provided quality of life for her Dad at a time when his overall quality of life seemed to be diminishing. Meals and laundry became more than practical chores – they were times of social interaction and companionship. These are invaluable gifts to give to a daughter, a son, a weary caregiver or relative. Thank you for being part of a special team and may God bless you as you continue to walk out our mission in homes around the region!
Gratefully,
Curt Stutzman, President & CEO
To learn more about Messiah Lifeways At Home call 717.790.8209 or visit MessiahLifeways.org/AtHome