In our medicine cabinets right now, most of us likely have several bottles of expired prescription medications just sitting there collecting dust. If we have an aging loved one that has recently passed away or is no longer taking a certain med, we might find 5 or 6 times as many bottles to dispose of. What are we to do with them? I recently had a family asked me about disposal of expired or unused prescription medications. So I did a little research for them and was surprised about some of the information I thought I knew.
In hospitals and nursing homes, unused, expired or contaminated pills can be put into medical waste containers, which eventually get chemically treated and either burned or buried. They also have disposal systems that have a liquid solution that deactivates the drug, which can then go into the garbage.
For the average consumer, many communities have drug "take-back" programs. For instance, Cumberland County in Central Pennsylvania offers medication drop boxes. The program called "Not in my Pond," which promotes stricter disposal practices, refers to the concern of contamination despite wastewater treatment or medicines leaching into groundwater from landfills. Disposal guidelines from the Cumberland County website are as follows:
All pharmaceutical drugs that are being disposed of need to be in a sealed container such as the original bottle or a zip-lock bag. They may NOT be disposed of loosely.
Liquid pharmaceuticals should remain in the original container.
Personal information should be removed or blotted out with a permanent marker.
[This includes] prescription and over-the-counter solid medications, tablets and capsules, liquid medications, inhalers, creams, ointments, nasal sprays and pet medications.
The site also lists locations throughout the county where these boxes are located, typically at local police departments. And according to the website, in one year, Cumberland County's Medication Drop Box Program collected over 4,000 lbs. of prescription medications. You can also check statewide for drop boxes in your county by clicking here.
Interestingly, as I read about all these local and statewide options to dispose of unwanted meds, I also looked at the U.S. Food and Drug Administration (FDA) for the federal guidelines, but surprisingly found somewhat of a different tune on the issue.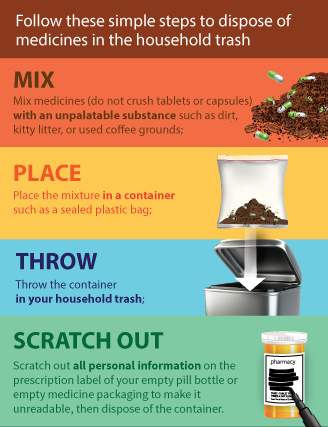 Locally, it appears they recommend all medications should not be flushed or thrown in the regular trash. I've also heard that anecdotally from working around healthcare professionals for many years. However the FDA guidelines appear to be more comprehensive but a bit more relaxed at the same time. First, it provides a fairly long list of medications that can be flushed. It also instructs you how to prepare other medications for regular trash disposal [see diagram].
The following is an excerpt from FDA.gov regarding environmental concerns of flushing medications….
Some people …question… the practice of flushing certain medicines because of concerns about trace levels of drug residues found in surface water, such as rivers and lakes, and in some community drinking water supplies.
"The main way drug residues enter water systems is by people taking medicines and then naturally passing them through their bodies," says Raanan Bloom, Ph.D., an environmental assessment expert at FDA. "Many drugs are not completely absorbed or metabolized by the body and can enter the environment after passing through wastewater treatment plants."
"While FDA and the Environmental Protection Agency take the concerns of flushing certain medicines in the environment seriously, there has been no indication of environmental effects due to flushing," Bloom says.
"Nonetheless, FDA does not want to add drug residues into water systems unnecessarily," adds Hunter.
[The] FDA reviewed drug labels to identify products with disposal directions recommending flushing down the sink or toilet.
Despite somewhat contradictory recommendations, here's my advice. Check with your local municipality, township, or county on disposal regulations. The FDA views things differently, but I think the better practice is to follow local guidelines. If you feel a bit more relaxed about it and it's not multiple bottles with hundreds of pills, follow the instructions on the diagram on regular trash disposal or flush it based on the list of meds safe for flushing on the FDA website. But most importantly, if disposal is necessary to keep small children or someone with an addiction problem away from it, first, do it immediately, and second take them to the medication drop box in your community. It's the smarter and safer thing to do.
For more information on this topic, please contact Messiah Lifeways Coaching at 717.591.7225 or email Coach@MessiahLifeways.org.