The senior games combine sports, recreation, friendly competition and fellowship into one fun-filled day. The goal of Senior Games is to stimulate active lifestyles, promote healthy living, build lasting friendships and create fond memories.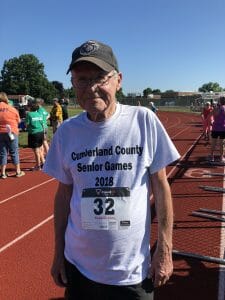 Athletes age 50 and better from all over Cumberland County gathered on July 19 to participate in the 2018 Senior Games. After a several year hiatus, the Cumberland County Senior Games returned in 2016 and for the last several years has been a fun and inspiring day for local seniors.
The games are organized and presented by Cumberland County Aging and Community Services, Messiah Lifeways, the Borough of Mechanicsburg, and Mechanicsburg Area Parks and Recreation. Events were held at Mechanicsburg Area Senior High School, Mechanicsburg Soldiers and Sailors Memorial Park pool, and Mechanicsburg Place: A Senior Center & More.
Nearly 70 athletes participated in a variety of indoor and outdoor sports and activities. For even competition events, are spilt by gender and into four age categories: 50-59, 60-69, 70-79 and 80 and over. The events, which started at 9am and lasted until 2 pm, included:
• 100M Run/Walk  • 400M Run/Walk  • 1600M Run/Walk
• Wii Bowling  • Billiards  • 25 meter freestyle swim
• Ladderball  • Shuffleboard  • Bocce ball   • Cornhole
• Basketball shoot  • Football & Softball distance throw
After plenty of water breaks, lunch, and the conclusion of all the events, Cumberland County Commissioner Jim Hertzler handed out gold, silver and bronze medallions to participants during the closing awards ceremony. It was a great day of competition, filled with fun, laughter, and so many memories. It was gold for everyone!
[/av_textblock] [av_masonry_gallery ids='2670,2669,2681,2674,2676,2671,2675,2673,2679,2680′ items='10' columns='5′ paginate='pagination' size='flex' gap='1px' overlay_fx='active' container_links='active' id=" caption_elements='title excerpt' caption_styling=" caption_display='always' color='custom' custom_bg='#eda221′]