Every November, the National Association for Home Care & Hospice (NAHC) celebrates National Home Care Month all month long, and Home Care Aide Week, which runs from November 13-19, 2016. It is a time to honor the care giving heroes who make a remarkable difference in the lives of those in need. This year's theme is "Caring in Action."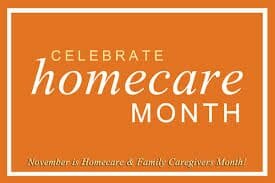 Home care lies at the core of helping aging and disabled Americans stay in their home for longer periods of time. It can potentially lessen the amount of time someone may spend in an assisted living residence, personal care home, or nursing home. Of course there are many other resources to help people "age in place or community." Other options include home health care, which provides short-term medical care into the home, adult day programs, respite care, technology, home modification, and in-home medical equipment. Home care services combined with one or several of these other home-based resources can create a workable blueprint to help someone age in place.
The Evolution of Community-Based Care
There are a number of reasons for this shift toward community-based care. First is the government's dwindling ability to fund healthcare. And with nearly 76 million baby boomers reaching age 65 in the next 20 years, coverage for institutional care will become harder and harder to get. Because of this, the free market is joining the movement away from an institutional model of care and pushing for more community support services. It is the direction health care services are headed in our country. This is why you are seeing more urgent care centers, home care agencies, and hospice providers popping up in the community. It is simply cheaper to take care of someone if they don't have to be hospitalized or placed in a facility, which is what most people want anyway.
These 76 million boomers represent a large and powerful generation whose demands and expectations of care will be very different from what we are used to seeing. Once more the idea of bringing services into the home and modifying homes will be the future for this rapidly growing number of seniors. Other factors compounding this evolution of care include our ever increasing life spans which require longer periods of care and funding. Secondly, over the last three decades, the number of family members, especially daughters, serving as caregivers has shrunk as our society becomes more mobile and career-oriented making a move out of town, state, or country more common. The way we used to care for our elders has changed. Just as nursing homes and personal care homes have provided surrogate care for aging loved ones over the last several decades, the idea of substituting care with home care aides has become more conventional. It helps working daughters (or sons), sandwich generation caregivers, out-of-towners, and spouses to replace or supplement the care they provide.
The National Association for Home Care & Hospice states that demographic shift studies translate into some [troubling] data. The number of frail older people over 65 is expected to increase from 11 million in 2010 to 18 million in 2030. The percentage of frail older people who are childless is expected to rise from 14 to 18 percent during this period, and the ratio of frail, older people who have only one or two adult children is expected to increase from 38 to 49 percent. Most of these aging boomers will want to remain in their homes, but they may not be able to count on their families for long-term care when it's needed.
Home Care Can Fill Many Niches
Not only has health care evolved to put a greater emphasis on community-based services, but home care itself is evolving. Traditional housekeeping, cooking, companionship, transportation and assistance with activities like bathing and dressing are generally offered by most non-medical home care providers. However, home care providers such as Messiah Lifeways At Home now offer a unique array of services that buoy one's ability to live safely and more carefree at home. Some of these newer and less known options include: pet and plant care,  non-skilled home maintenance, downsizing services, assistance with home exercise programs, and technology/computer assistance.
Lastly, in a time where the expanding need along with the absence of consistent familial support continue to grow, home care staff fill a void and become more than just caregivers for their clients. They become almost like close friends or even family and are poised to play a key role at the center of caregiving in our country.
---
To learn more, go to MessiahLifeways.org/AtHome or call 717.790.8209. For information on home care services for the entire state, visit the Pennsylvania Homecare Association (PHA) home care locator link [click here].
Originally posted November 2013- Revised for November 2016
by: Matthew Gallardo, Messiah Lifeways Coach, BASW, CCP