One of the biggest challenges that caregivers of an aging parent or loved one faces is choosing the right long term care facility when living at home is no longer feasible, practical or safe. Many caregivers struggle with conceding to allow someone else to take care of mom. However, as hard as that is sometimes, it's often the best remedy for their sake and yours. And despite any promises made and your best efforts as a caregiver, finding the right personal care home or assisted living can be a better alternative. Once you've both come to grips that it's time for a change, you're ready for the next challenge, which is finding a place they can call home and you can feel good about.
There are several options when it comes to choosing and moving into a care home, such as assisted living and nursing care facilities. But another great alternative is choosing a personal care home. You may be asking yourself, "What are personal care homes, how to choose a care home, and how do I know if this is the right choice for my loved one?"
Here is some information to answer your questions, so you can make an informed decision.
What is a Personal Care Home?
Personal care homes provide a home-like environment for your elderly loved one, while also providing the around-the-clock care and support he or she needs. Unlike a nursing home that provides intermediate to skilled nursing care for individuals that are very sick and or bed-bound, personal care homes provide assistance with everyday living tasks and provide activities and enrichment, so your loved one can continue to stay as active as possible.
Personal care homes may include the following common assistance:


Three meals a day


Supervision and monitoring of medications


Help with daily living activities (grooming, dressing, bathing, eating and restroom needs)


24-hour emergency call response


Housekeeping and laundry services


Social events
Additional services provided can vary by facility, so be sure the personal care home provides for your loved one's needs and interests.
Services provided are only one part of the equation when choosing a personal care home for you loved one. You should consider other factors when choosing the right long term care facility that fits the needs of your family.
It All Starts With a Discussion
Always include your parent in the decision-making process when choosing a personal care home or other long-term care facility. Elderly parents often fear a move to a care facility means a loss of independence or fewer visits from you and other family members. Reassure your parent that this is not true, and include him or her in all decisions made.
Your parent may also be reluctant to leave the comforts of home. Explain why moving into a personal care home is beneficial and they can reside in private accommodations with a home-like environment getting the care and attention they need.
Here are some tips on how to choose the right personal care home for your loved one.
Consider Costs and other Charges
How much will it cost? This is a major factor in choosing a personal care home. The facility must be within your budget. You'll need to know the cost of room and board on a monthly basis. Make sure you know what services are provided in the monthly total because facilities may also charge for extras, or services that are not usually provided.
Also consider other important cost factors, such as the following:
Costs of a deposit, application or entrance fee and if they're refundable
Personal needs allowance
Frequency of fee increases and notification time
Check State Licensing
Personal care homes are licensed by the state. When choosing between personal care homes in Pennsylvania, make sure the facility is licensed by the state to uphold the rules and regulations set forth by state code.
While licensing is important, it should not be the only deciding factor in choosing a home. A license means that the personal care home ensures the most basics state standards are met. However, there are other factors to consider before making a final decision.
Schedule a Visit
One you've made a list of personal care homes that are affordable and fit your loved one's needs, it's time to schedule a visit. During this visit, talk with administrators, ask questions and tour the facility. While there, you can learn a great deal about the personal care home.
Check out Location and Floor Plans
You and your parent want to stay close, so look for personal care facilities in close proximity to your home. The facility should also be close to the local hospital in case of an emergency.
Depending on the facility, a variety of floor plans may be available including studio, one or two bedrooms, with or without a kitchen, and private or shared accommodations. You and your parent can discuss which type of living arrangements he or she would like to have to make sure your loved one feels at home in the new place. Ask if residents use their own furniture or can borrow it.
Activities
Recreation and enrichment are important, and so is having staff to oversee activities to ensure the safety of the residents. Ask how often these activities are scheduled if transportation is provided, if there are any additional costs, and lastly ask for a copy of the activity calendar.
Medication
Older adults often take multiple prescription medications daily, so it is important to discuss medication distribution procedures with the administrator during your visit. You also want to know who is responsible for picking up and refilling medication. It is important to know that medications are almost always a separate cost to residents, not included in the monthly rate.
You'll also want to ask about storage and make sure your parent's medications are kept in a secure place.
Environment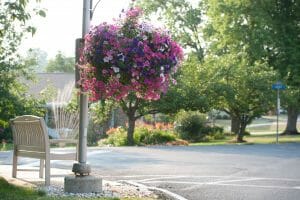 Most personal care homes provide a home-like environment. Look around during the tour to see how well the home is taken care of and cleaned. Residents should be allowed to hang pictures in their private room and decorate as desired to give their space a homier feel.
Meals
The personal care home should offer nutritious meal choices, snacks and should be able to cater to special diets such as low sodium or low cholesterol. You should also ask for a copy of the menu and meal calendar.
Staff
During a visit, watch staff members in action. Pay attention to how they interact with residents and if they respect the residents' privacy and dignity.
How the staff treats residents says a great deal about them and the facility. For instance, do staff members knock before entering a resident's room? Does the staff show concern for residents? Do they call current residents by their names, and do their jobs with a positive attitude?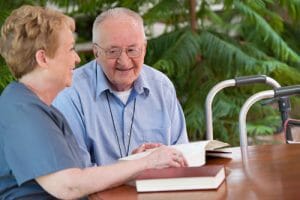 You want your loved one to be part of a happy, uplifting environment where they feel like the people around them care about their well-being. Do you get that vibe from the facility's staff?
Visiting and touring of the facilities that are of interest to you can help you decide which has the right atmosphere and the most caring staff for your loved one.
Messiah Lifeways
Personal care homes are one option for older Pennsylvanians to reside in, such as the one located at Messiah Lifeways at Messiah Village. Described as Enhanced Living, this option offers better personal care, a variety of floor plans and care services for older adults in Central Pennsylvania.
Messiah Lifeways at Messiah Village offers support and enhances the lives of older adults with Christ-Like love, where they can age with purpose and zest, stay active and continue all that life has to offer without the worry of home maintenance, cooking, housekeeping and most importantly receiving the care they need on a daily basis. They also offer nursing care for future long-term health care needs along with short-term rehab.
At Messiah Village, the staff become like an extended family for your loved one, so that he or she never feels alone. You can talk to the staff and other residents to see how they feel about the living arrangements and care.
Floor Plan Options
Messiah Village offers private studio and one-bedroom residences centered near inviting and beautifully-decorated gathering areas. You have a choice of several floor plans:
The Juniata I or II studio apartments
The Delaware I or II studio apartments
The Ohio studio apartment with a convenientkitchenette
The Susquehanna or Brandywine one-bedroom apartments with a convenient kitchenette
Services Offered At Messiah Lifeways
Messiah Lifeways at Messiah Village offers varying levels of personal care and assistance ranging from basic care to memory and health support services, as well as medical services, activities and many other amenities.
Medical Services
You don't have to worry about your parent's medical needs as a Messiah Village resident. Many services are available, such as:
24-hour emergency response
Physical, occupation and speech therapy services
Fitness programs
Preventive health services
Memory support care
Nurse liaison to assist with transitioning from the hospital
Outpatient physician, optician, audiologist, psychologist and podiatrist services
Onsite pharmacy
Support groups
Activities
You don't have to worry about becoming bored or inactive while residing at Messiah Village. The facility offers many options for hobbyist and active residents such as:
Gardening
Walking paths
Woodworking
Hobby rooms
Libraries
Warm water aquatics and fitness center
Disc golf
Computers
Organized day trips
Adult learning/education
Clubs
Chapel
Concerts, recitals and various entertainment
Other Perks
Messiah Village sits on 80 beautifully manicured acres and offers many other services and amenities including:
All utilities included except phone and internet service
Insurance and attorney services
Housekeeping services
Pastoral ministry services
Wi-Fi available in common areas
Barbershop and salon
Onsite banking
Onsite gift shop
Closed circuit TV station
24 hour security
A variety of dining venues and menus, including two restaurants and coffee shops.
General stores stocked with fresh fruits, sweets, snacks, toiletries and many more sundry items. 
Contact Messiah Lifeways
While researching personal care homes in your area, consider contacting Messiah Lifeways at Messiah Vilage. Whether your loved one needs a long-term home or a short-term respite stay, you can discuss these options with our director of admissions and learn more about our programs and services, along with costs and available floor plans.
Contact Messiah Village and schedule a visit. You and your parent can tour the Village together and determine if it meets your needs. No matter which facility you choose, a personal care home is a good long-term care solution for individuals who can no longer live alone and looking for new place to call home.