The name Messiah Village wasn't broken. It was and still is a highly recognized and well respected brand. However, despite not being broken, it did have some flaws. It no longer fully represented who we are and what we do. We expected during this transition period there would be growing pains and much of the terminology changes, especially "Messiah Lifeways", would take some getting used to. But the rebranding question recently came up while I sat in on a meeting with a vendor who is helping us fine tune our website. This prompted me to write this entry. She didn't fully grasp the change from Messiah Village to Messiah Lifeways. She's not the first and certainly won't be the last. Now for those of us who work or live at Messiah Village, the new moniker and culture change has been instilled over the last year, and I think it's fair to say for most "Messiah Lifeways" has grown on us and makes sense. For those who still don't fully understand and for those who are new to Messiah Lifeways, let me try and explain.
---
First, it's important to note that in our nearly 117-year heritage, this is not the first time we changed our name; it's actually the third. In our humble beginnings, back in 1896, we were known as the Messiah Rescue and Benevolent Home, which begot the Messiah Home, which then became Messiah Village in the late 1970's after moving from Paxton Street to our current location on Mt. Allen Drive. There is one main difference with this third variation compared to the first two – the name Messiah Village has not been eliminated. Therefore, Messiah Village still exists, but it has simply given way to Messiah Lifeways as the "parent brand." Messiah Village no longer represents the entire brand; it's now just a division of the brand.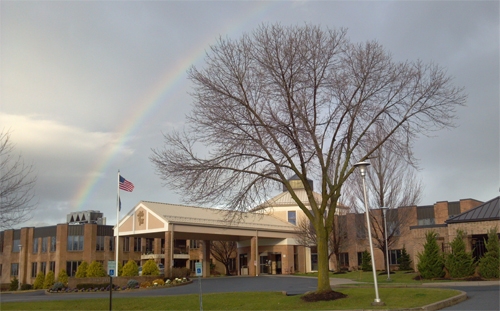 ---
Next, it's important to address why the name change occurred. I like to describe this change as an evolution or a metamorphosis. For much of our existence we have made it part of our mission to serve people both on and off our campus. But the majority of who we serve have either lived in the "home" or in the "village." That was fine for a time, but after moving to Mt. Allen Drive, our evolution really started to gain momentum.
We continually adapt with the times and despite encouraging people to become residents here, we knew that most people wanted another alternative, which was to age in place. Aging in place is, quite simply, staying in your own home or current residence and bringing services in and using supplemental services to help you stay where you are. Aging in place is a term you'll hear quite a lot these days, but it's something that we embraced as far back as 25+ years ago when we formed our own home care agency and then several years later an adult day program. The commitment to help individuals age in place along with offering enrichment opportunities like our wellness center and Pathways Institute for Lifelong Learning are just a few examples that shows the broad range or spectrum of services that could no longer be fully represented by a single site. Messiah Village implies that single site, and while it makes sense to the residents who live on this campus, the name Messiah Lifeways makes more sense and captures the essence of what we do for the many people we serve both on and off this campus.
Messiah Lifeways is the umbrella name that encompasses the eleven different services that we provide and, to reiterate, Messiah Village happens to be one of those eleven offerings or divisions.
Finally, the name Messiah Lifeways is representative of the journey we encourage our residents, clients and families to take, in that there are many ways to live life. We also hope that Messiah Lifeways can inspire older adults to more fully embrace life in the ways that suit them.
I hope this helps people understand the name change. Evolution and growth have made it necessary over the years for us to restate who we are. Times change and so do names. It will take time, but soon enough, Messiah Lifeways will gain the brand recognition and strength to become regular part of the lexicon here in Central Pa.
Please share your comments below on what Messiah Lifeways means to you!