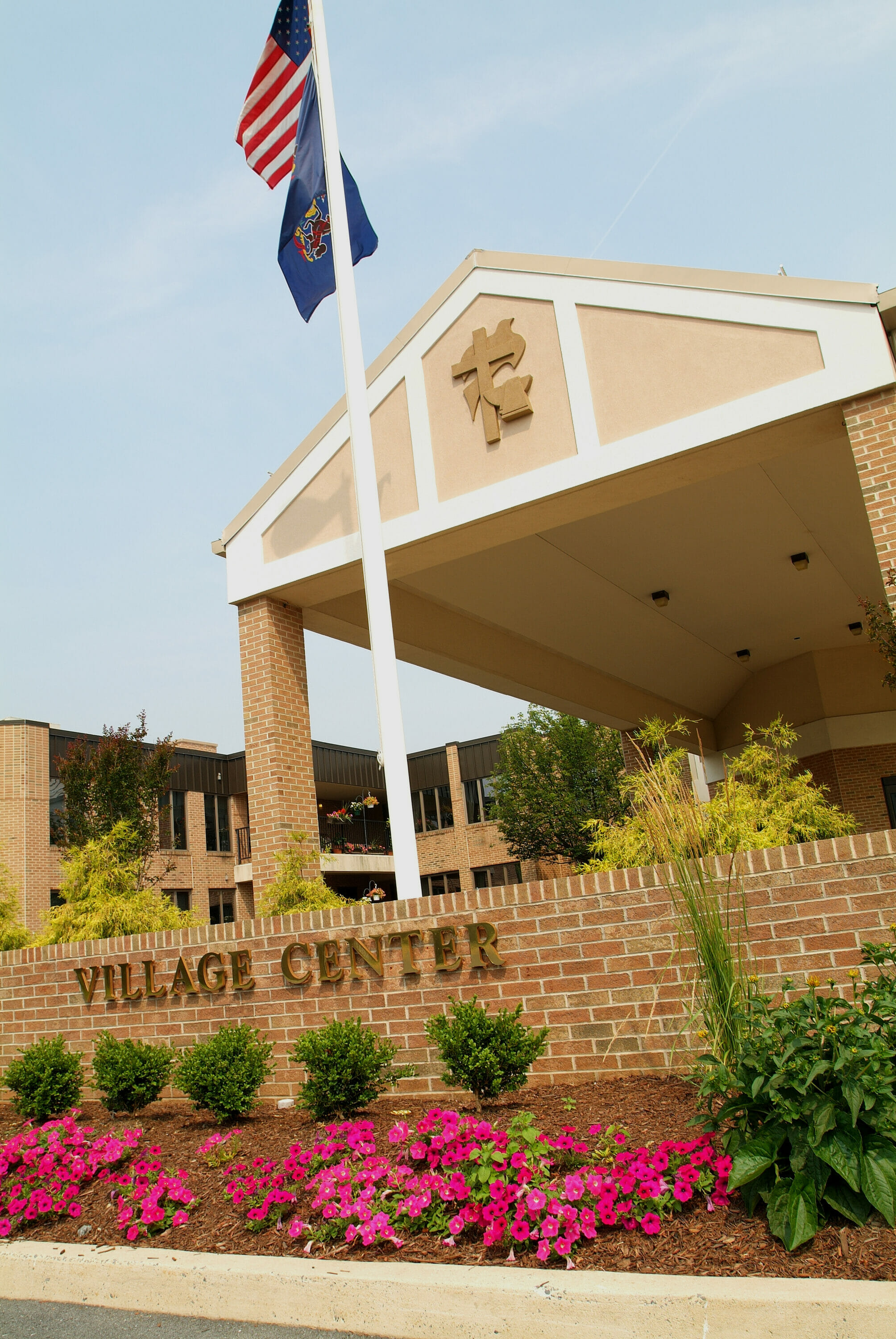 The Labor Day holiday has had special significance to me all my life—I was born on Labor Day!  It's considered one of the major holidays in the U.S., and is considered by many to be the unofficial end to the summer season.  The holiday was established in great part to recognize the contributions that workers have made to the strength, prosperity, laws and well-being of the country.  This year, I am especially appreciative of the work being done for the benefit of the older adults who are part of the Messiah Lifeways family.  Very recently, we opened two new nursing neighborhoods (Engle and Greenwood) in one of the buildings just constructed on our Messiah Village campus.  Here are some of my observations during the two days that residents moved into their new homes.  It is encouraging to see our team working together across departmental lines.
A gifted Certified Nursing Assistant bending down to speak words of comfort and encouragement to a resident anxiously waiting to get on the elevator to his new home.
Environmental Services team members moving furnishings and personal effects to new resident rooms to provide a sense of familiarity.
A Pastoral Ministries team member lovingly decorating with personal items so a new room will immediately feel like home.
A nurse emotionally sharing about the positive ways residents and family members were able to interact in the new dining rooms in the Engle neighborhood.
A laundry team member helping fill in for an open Security position overnight, because of his commitment to service and the team.
A Construction Services team member dusting shelves following a minor installation project.
An Information Technology team member working after hours to make certain systems were functioning in the new neighborhoods
An Enhanced Living leader pitching in to help move resident furnishings.
Campus Services members working to balance air temperatures in common areas and rooms to the comfort of our residents.
Members of the Organizational Council volunteering to do final walk-throughs of new apartments, assuring that everything was working well.
I'm greatly encouraged when people come together from various backgrounds to work toward a common purpose.  There is an intrinsic benefit we receive when giving of ourselves to help others, expecting nothing in return.  It is a sense of warmth and satisfaction and "rightness" in knowing that what we are doing helps another in need.  Certainly, we need more of this kind of behavior in the world today.  At Messiah Lifeways, our mission statement says that we "responsibly enhance the lives of older adults with Christ-like love."  Regardless of your faith perspective, the concept of Christ-like love carries with it the expression of heartfelt and others-centered compassion.  I've been reading some of the writings of author and theologian Henri Nouwen recently.  In A Spirituality of Caregiving, he writes that the words of Jesus call us to "Be compassionate just as your Father is compassionate" (Luke 6:36), and that this "is offered in the deep conviction that through compassion we grow to fullness as God's beloved children" (p 29).  Let's all commit to living lives of compassion in this mixed up world today.  It starts with doing simple acts of service for others like are expressed in the stories above.  In doing so, we can make each day our "Labor Day" of love.