There has never been a better time to be over age 55 in America. Not only are older adults staying healthier longer, they are also more active and involved in the community than ever.
This could be due in part to the positive examples we see of older adults every day, such as successful, fun-loving celebrities Ellen DeGeneres, Goldie Hawn and Tom Hanks. There are also more and more examples in our own lives of grandparents who help take care of grandkids, seniors who travel the world, and 55+ folks who take up new hobbies and interests in retirement.
Locally, here at Messiah Lifeways, we view aging as a time of purpose and opportunity. We encourage older adults to explore encore careers or second acts to achieve more fulfilling and active lifestyles after retirement.
And those upbeat attitudes of optimism and confidence will help us all. A study published by the Journal of the Association for the Psychological Science showed that exposure to positive perceptions of age actually improved the health and physical abilities of seniors. Simply put, seeing and hearing about active, happy older adults can help turn you into one, just like a good diet and exercise would! (Although keep up with your balanced diet and exercise, too!).
So, you want to take better care of yourself, get out of the house more, stay independent and experience life. But where do you start? Thankfully, there are tons 55+ senior discounts in Central PA that can help you get out, stay active and enjoy new experiences. There are many little perks that will help save a few dollars, freeing money up for more fulfilling activities. Unfortunately, these local senior discounts aren't always well-known or well-advertised. Never fear! This senior discount list will help you get started.
Entertainment: Senior Discount List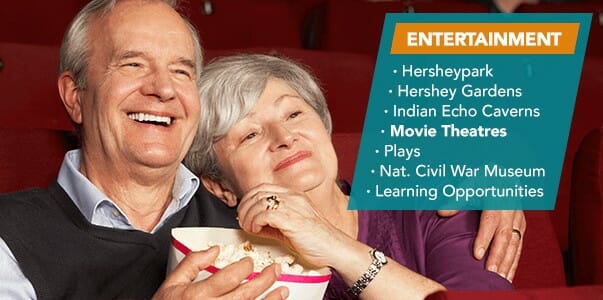 Hersheypark: Why not head to the "Sweetest Place on Earth" for a little excitement? Hersheypark just opened a new roller coaster, The Laff Trakk, making it home to 13 roller coasters in all. But the park also has a Ferris wheel, spinning tea cups, carrousel and monorail if you prefer classic rides. If you like to swim, go along with the grandkids and enjoy the Boardwalk or float in an inner tube down the Intercoastal Waterway. In 2015, seniors and older adults save $23 per admission ticket to Hersheypark.
Hershey Gardens: Located near the Hershey Hotel, Hershey Gardens gives seniors a $1 off discount on admission tickets. The rose garden, seasonal display and Japanese garden are beautiful and relaxing to visit. If you want to bring grandkids or great nieces and nephews, don't skip the Butterfly House, home to 350 to 400 butterflies of about 25 varieties. The whimsical Children's Garden is also great for kids, with interactive exhibits and plenty of chocolate-themed features.
Indian Echo Caverns and Estate: Have you ever visited Indian Echo Caverns and Estate in Hummelstown? The 45-minute tour of the breathtaking limestone cave is worth a visit, and seniors 62 and better can enjoy $2 off the regular admission price.
Movie Theaters: If you'd rather stay indoors with your feet on the ground, many local movie theaters offer senior discounts. For example, Midtown Cinema, located at 250 Reily St. in Harrisburg, offers $1 off the $9 ticket price. There is a free parking lot right next to the cinema as well. Larger movie theaters also offer discounts. The Regal Cinemas in Harrisburg, for example, offers a senior ticket rate (although you have to be 60+) and a discount on a popcorn and soda combo (for 55+). Whitaker Center in Harrisburg, which is home to Central PA's biggest movie screen at 38 feet high and 70 feet wide, also offers discounts to movies and advises visitors to check with the box office for pricing information. And if you're helping with the grandkids, keep an eye out for special movie times and prices for children, such as the $1 movie deal with Regal Cinemas.
Plays: Theatre companies also offer discounts. In Lancaster, the Fulton Theatre has a "Pay What you Want" night the first Tuesday of every Premier Series and the first Saturday of every Eichmann Family Theatre production. The program is first-come-first-serve, but you can score a steep discount by arriving early. The open-air Mount Gretna Theatre offers two-dollars-off tickets to seniors age 62 and over.
Harrisburg Senators: If you want to root, root, root for the home team, seniors age 60 and better can get $1 off the reserve tickets at Harrisburg Senators games on City Island. The Senators are the minor league team affiliated with the Washington Nationals, so sometimes attendees can see major leaguers who are rehabbing, such as pitcher Stephen Strasburg. Even if a big-name ballplayer isn't in the lineup, it's still fun to enjoy a hot dog and a ball game.
National Civil War Museum: Another local gem in Harrisburg, the National Civil War Museum is home to over 24,000 artifacts including photographs and manuscripts. Seniors and older adults get $1 off admission every day. The museum recommends allotting two to four hours for your visit, and they often host guest lecturers and special events. Check the calendar before you head to the museum.
Learning Opportunities: Most children don't think of school as entertainment, and by the time adults appreciate education, they've often already left high school or college. Penn State University provides a unique opportunity for seniors and older adults called the "Go-60 Program" that offers tuition-free undergraduate courses to Pennsylvania residents who are aged 60 or better and retired or employed part time. This program is also available at some local campuses. Continuing education can be a fulfilling and positive way to spend time in retirement.
Food: Senior Discount List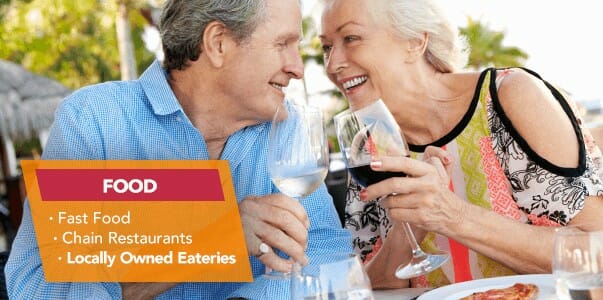 Going out for breakfast, lunch or dinner is a great way to connect with friends and make new ones. However, the cost of eating out can really take a bite out of one's personal budget. Thankfully, many restaurants recognize that seniors are important customers and offer dining discounts. These aren't always well-advertised, so be sure to ask for your discount before paying the bill.
Fast Food: In the realm of fast food, local discounts for seniors over 60 include Arby's and Chick-Fil-A, who provide 10% off. Dunkin Donuts will give you 10% off or a free donut with your coffee order. McDonalds offers discounted coffee, and KFC will give a free small drink with any meal. Subway gives a 10% discount to seniors 60 and better. Most fast food chains offer some sort of perk for older adults, so be sure to ask when you order.
Chain Restaurants: But fast food chains aren't the only ones giving out senior discounts. Good news for fans of the "Bloomin' Onion," Outback Steakhouse offers 15% off lunch and dinner every day to members of the American Association of Retired Persons (AARP). In our area, there is an Outback Steakhouse on Union Deposit Rd. in Harrisburg and on the Carlisle Pike in Mechanicsburg. Another popular senior discount is given by Applebee's, where the discount can range from 10 to 15% by location. In Central PA, there are Applebee's locations in Harrisburg, Hummelstown, Lancaster, York, Carlisle and Mechanicsburg.
Locally Owned Eateries: Beyond the chains, local restaurants with senior discounts include the super popular Soda Jerk Diner and Dairy Bar in Hummelstown and the Hi-Life Diner on Carlisle Pike in Mechanicsburg. The Peppermill Family Restaurant on Wesley Dr. in Mechanicsburg gives seniors 10% all day on Monday and Tuesday. Their menu features lots of traditional fare, plus delicious Greek dishes and homemade desserts.
Retail: Senior Discount List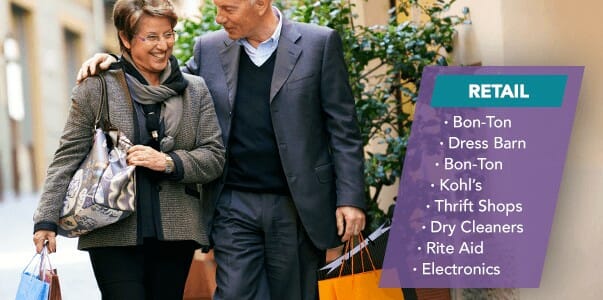 Shopping is another area in which seniors can benefit from markdowns. Here are some examples of retail stores that give senior discounts.
Bon-Ton: This department store, perfect for shopping for yourself or gifts, offers senior discount days, but they vary by location. In Central PA, there are locations in Camp Hill, Harrisburg, Carlisle, York, Hanover and Lancaster. Imagine saving 10% off all of your holiday shopping!
Dress Barn: Dress Barn also offers a discount, 10% off of your total purchase to shoppers 55 and older when you shop on Tuesday. Locations in our area include Strawberry Square in Harrisburg, Silver Spring Commons in Mechanicsburg, Paxton Towne Center in Harrisburg, Carlisle Rd. in York and Gettysburg Village in Gettysburg.
Kohl's: Get a 15% discount on Wednesday for customers "55 or better." What a positive way to look at your senior customers, Kohl's! We do get better with age.
Thrift Stores: If you love shopping for thrift store finds, there are markdowns there as well. Goodwill invites seniors to shop on Mondays for a 15% discount. Salvation Army Thrift Stores offer a whopping 50% off from 9 a.m. to 1 p.m. on Thursdays.
Dry Cleaners: Once you've bought all of these awesome discounted clothes, you may need to have them dry cleaned. Be sure to ask your local dry cleaner if they offer a senior discount. For example, George's Dry Cleaner has locations in Lemoyne, New Cumberland, Camp Hill and Mechanicsburg and gives seniors a 10% markdown on their dry cleaning bill every day.
Rite Aid: The pharmacy and store, headquartered in Central PA, runs a Rite Aid Wellness 65+ program that provides 20% off your entire purchase on the first Wednesday of the month and free consultation with a pharmacist.
Electronics: There are senior discounts available for technology as well. For example, Verizon Wireless has a special Nationwide 65+ plan for $29.99/month for 200 minutes. If you prefer AT&T, they offer a similar plan at the same rate.
Travel: Senior Discount List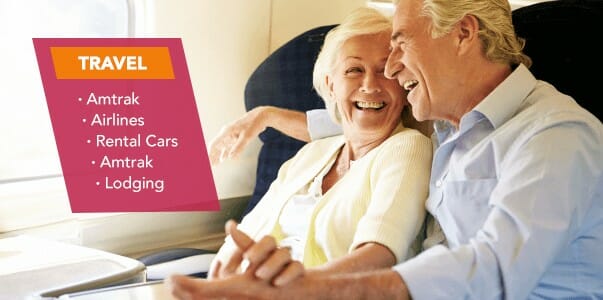 Many of us fantasize about traveling in retirement. During our working years, limited vacation days and family obligations often kept us from taking advantage of travel opportunities. Retirement (or approaching retirement) allows many 55+ Americans to think more about sightseeing and traveling. Here is a senior discount list of travel related savings.
Amtrak: With a beautiful historic station located right in downtown Harrisburg, traveling by Amtrak train is a great way to see much of the beautiful east coast on extended vacation or an easy way to get to Philly for a day trip. Seniors (age 62+) can score a 15% discount on the lowest available fare. Additional stations in Central PA include Middletown, Elizabethtown, Mount Joy and Lancaster.
Airlines: If you prefer to travel by air, many of the airlines that fly out of Harrisburg International Airport (HIA) do offer senior discounts, but you have to call to determine the exact markdown. These include US Airways, United, American Airlines and more. Southwest Airlines doesn't travel out of HIA, but they do have flights in Philly and Baltimore, and they offer discounts as well to seniors.
Rental Cars: Maybe your travel chariot will be a rental car. Discounts are available for you as well. Budget Rental Cars provides 25% off to AARP members. If booking online, use the discount code Y508501 to score this discount or call 1-800-733-9092. Budget Rental Cars have several locations in the Midstate, including Harrisburg International Airport, Jonestown Rd., Middletown, York and Lancaster. Hertz Rental Cars also offer a discount for renters over 50 years old, just use the discount code 2007815 when booking online. Hertz has locations at HIA and in Carlisle, Gettysburg, Mechanicsburg, York and Lancaster.
Lodging: Once you reach your destination, you can often find savings on hotels and accommodations. For example, La Quinta Inns and Suites provides discounts to senior citizens and AARP members. Holiday Inn offers a discount to guests age 62 and older, although the exact amount depends on your dates of travel and destination.
Older, Wiser and Richer
As with most things in life, these discounts are subject to change, so be sure to check with the store, restaurant or facility before you bank on the markdown. Also, as with most things in life, "Ask, and you shall receive." Don't assume your waitress, hotel manager or amusement park ticket counter employee can tell that you are the right age to receive a discount. You probably look fabulously young, and they wouldn't think of you as a senior. Many employees probably won't even bring it up because they are taught that talking about age is rude. But you deserve your discount! So be sure to speak up and ask.
There may be people who want to cling to an old, outdated view of retirement and older (better) age as a period of isolation. But, Americans are living longer and healthier. According to the Centers for Disease Control and Prevention's National Center for Health Statistics, the average woman in the United States will live to be 81 and the average man will live to be 76. Of course, many factors, such as health care and habits, can extend those numbers by many years.
Simply put, there has never been a more exciting time to be age 55 or better! It is clear that society, and especially businesses, recognize that those 55 and better are more energetic than ever. These discounts can help seniors stay active, engaged in the community, and positive. Grab a friend and start enjoying the perks of being older today!
Did we miss any? If you know of other 2015 senior discounts, let us know, and we will add them to the list.