Close your eyes and try humming your favorite song. Perhaps it's a song from your wedding day or a children's tune learned on Grandma's lap. Is it a hymn? A piano sonata? A classic love song from a special high school dance? Music surely evokes powerful memories but its power reaches far beyond nostalgia – music heals. A growing body of medical research asserts that music therapy improves quality of life and can decrease pain perception, reduce the use of opioid painkillers, restore lost speech, reduce agitation, and more.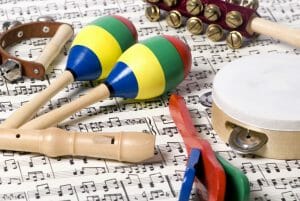 Messiah Lifeways at Messiah Village is delighted to announce the launch of The Snelbaker Music Therapy program. Established in 2018 by Carlyn B. Snelbaker, in memory of her late husband, Richard Snelbaker, Esq., the program brings a board-certified music therapist to our skilled nursing neighborhoods to offer personalized, clinical service to improve outcomes, behaviors, and holistic wellness for residents. While Messiah Village has a rich legacy of using and appreciating music in clinical and social settings, The Snelbaker Music Therapy program marks a considerable turning point in our therapeutic approaches. According to Ike Schlossberg, social worker and Community Life Leader, the advent of a formalized music therapy program will "take music beyond art form and entertainment, and help residents creatively express their memories and feelings." Schlossberg, an avid musician, met Dick Snelbaker on the day Dick moved into the memory care neighborhood and remained in touch with him until his passing in January. As a key influencer and coordinator of this new program, Ike is pleased to know that this offers a wider range of clinical approaches for caring for residents, far beyond pharmacological interventions or managing difficult behaviors.
In September, Messiah Lifeways began its contract with WB Music Therapy, LLC based out of Harrisburg, PA. Co-owner Kristyn Beeman, MTBC, has begun weekly visits to our skilled nursing neighborhoods as she combines her passion for the healing power of music with her training as a certified dementia practitioner. Contracting with a local specialist means immediacy and expertise, although our long-term aspiration is to create our own music therapist position and allow the program to flourish into other areas, from Enhanced and Residential Living to Adult Day. Fortunately, The Richard C. and Carlyn B. Snelbaker Endowed Music Therapy Fund will provide a perpetual source of funding to ensure that this exciting new program will continue to grow and thrive year after year.
One need only spend a few minutes with Kristyn to discover her deep-seated love for older adults and how musical expression can unlock their memories and bring purpose and joy to their day. "Music therapy really seeks to achieve nonmusical goals. While I work with all ages, I really love this population." She will conduct group sessions and individual sessions as she builds rapport and meets Messiah Village residents. Stay tuned for outcomes and updates as the Snelbaker Music Therapy program begins making its full impact. If you are interested in learning more about the Snelbaker Music Therapy program, or if you would like to support this life-enhancing program with a charitable gift, please contact Rachel Pease, Director of Development, at rpease@messiahlifeways.org or 717.591.5598.