Dear Supporters & Friends,
I was recently asked what I have been thankful for in the midst of this challenging season of lockdown and restrictions. For me, the beauty of the spring season and the time to actually enjoy it have refreshed and nourished my soul. 
With nowhere to go each evening after work, I have had time to take long walks, watch trees blossom, spy on a mother bird building her nest, pause to take in a sunset, and just simply soak in the glory of creation. And these moments have reminded me that even the hardest seasons should result in growth and beauty.
While walking across campus recently, I took note of the garden plots that are growing and thriving. Residents continue to prune, weed, and cultivate flowers and vegetables to encourage growth. In this season, we have also had the chance to be formed in new ways – hopefully with an end result that leaves us better than we were before. 
Ecclesiastes 3 reminds us that "There is a time for everything, a season for everything under the heavens." Later in the chapter, the writer assures us that God has made everything beautiful in its appointed time…but that the human heart cannot fathom what God is doing from beginning to end. So, although we may not be able to see all that God is doing in this season, we can look for the beauty and growth in the midst of it.
In this week's Spotlight on Philanthropy – "Stories of Hope," we shine the spotlight on ways residents and team members continue to find and create beauty in each day. May you take time today to reflect on ways you have grown in this season and give thanks for what God is doing in the midst of it all.
With gratitude and hope,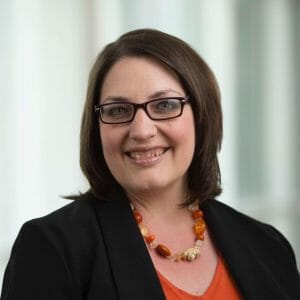 Rachel Pease
Senior Director of Development
---
Seniors to Seniors – Offering Advice & Words of Inspiration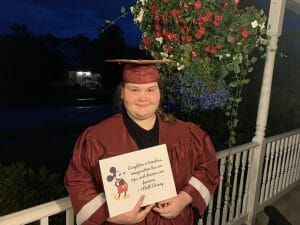 "Personal discipline is just as important as what you learned in school."
"Go for your biggest DREAM!"
"Never too young to start serving God; never too old to stop."
It's graduation season, and celebrations look very different than they normally do. Large gatherings are prohibited, and grandparents who live in senior living communities like ours are relying on virtual ways to celebrate their grandkids' accomplishments.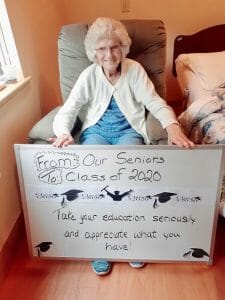 As a way to honor the Class of 2020, we asked some of our resident "seniors" to offer words of advice for the young people who are entering a new stage of life. And, knowing that this season has been very hard for skilled nursing residents who are not able to have visitors, we also asked graduating seniors to offer words of encouragement and hope to residents.
Some made their messages personal for the seniors in their lives; others took a broader approach. But all participated with a smile and with enthusiasm. Please click here to see what seniors young and young-at-heart had to say.
---
Katie's Corner on the Move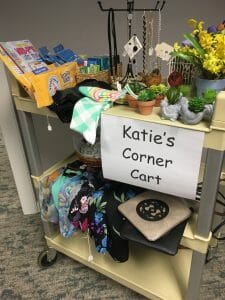 Katie's Corner Gift Shop has been closed since mid-March, and residents have really missed being able to stop in to browse for a greeting card, pick up a stamp or two, select some vintage jewelry at bargain prices, or pick up the latest seasonal decor. Residents in skilled nursing often stockpile the coupons they win playing Bingo to treat themselves to something from the shop.
So, Lead Enrichment Specialist Shelly Mann asked Volunteer Assistant Rosene Miller to put together a Katie's Corner Cart featuring many of the most popular items from Katie's Corner. Working with enrichment specialists on each neighborhood, Shelly's idea has allowed residents to safely shop for some pick-me-up items, bringing a welcome diversion to residents' days.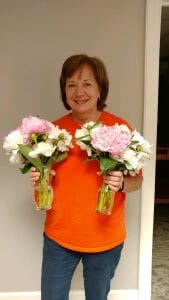 Piggy-backing on this idea, Rosene also picked and arranged beautiful peonies to sell via a Flower Cart. In the spring, volunteers usually supply the shop with inexpensive fresh-picked flower arrangements so that residents can enjoy the beauty of fresh flowers for a reasonable price. We were delighted that this could continue this year in a modified way. 
In welcome news, Katie's Corner will be able to reopen soon for residents and team members in Village Center. But in the meantime, we will bring Katie's Corner to residents instead! We appreciate each patron of Katie's Corner because proceeds support the Messiah Village Auxiliary, which in turn supports Benevolent Care and other special projects on campus.
---
Resident Gifts Her Stimulus Payment to Express Appreciation
Most of us received a stimulus payment as part of the Coronavirus Aid, Recovery, and Economic Security (CARES) Act. For one resident, this provided a wonderful opportunity to express appreciation. This resident, with help from her nephew, donated her entire stimulus payment as a way to thank team members for their kindness and dedication. A portion of the gift was allocated to the Team Member Christmas Fund, and part of it was designated to provide a meal of appreciation for the Donegal and Fiscal Services teams. These teams, in particular, have been helpful to this resident and her family, inspiring them to initiate this gift of gratitude.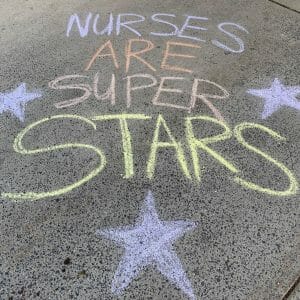 On Tuesday this week, nurses, aides, social workers, and enrichment team members in the Donegal neighborhood enjoyed a catered lunch from the Olive Garden, all thanks to the thoughtfulness of one of the residents they care for each day. "The team has been so nice to me and to my aunt that I hope this small gesture gives the people who work so hard some happiness," the resident's nephew said when organizing this gift. Fiscal Services will enjoy a luncheon at a later date. 
William Arthur Ward said, "Feeling gratitude and not expressing it is like wrapping a present and not giving it." In this challenging season, we are grateful for the many people who have said "thank you" not only through monetary gifts, but in all kinds of creative ways. May we all find ways to give the gift of gratitude and appreciation to those who bless us.
---
Impromptu Canine Visit Brings Smiles
Last Friday, I glanced out my window and noticed something that made me smile – a dog sprawled out in the lawn in front of Village Center. As a dog lover, I took a moment to watch this sweet girl eat her bone as Enhanced Living Director of Nursing Bonnie Reilly sat nearby holding her leash. And then I noticed something else: it was time for shift change, and almost every nurse, aide, and CURA team member who walked by stopped to talk to and pet this dog, lingering for a few moments to enjoy the beautiful day and the very friendly encounter.
I went outside to snap a few pictures and learned that Doris the Dog is the grand-dog of Clinical Manager Karen Ryan, who stopped by for a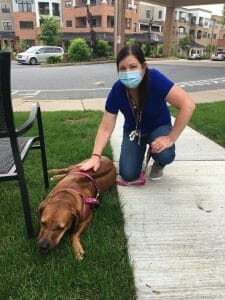 quick errand even though she was not scheduled to work that day. Bonnie was simply dog-sitting for a few moments while Karen was inside.
Doris was only on campus for 20-30 minutes…but she was there at just the right time, bringing joy and delight to team members as they headed in or headed out for the day. It was a sweet reminder of the pet therapy animals who make such a difference in nursing and enhanced living neighborhoods. We can't wait to have them back very soon. In the meantime, Doris the Dog is welcome to visit (outside) any time!
Feeling grateful and inspired? Perhaps you would consider gifting all or a portion of your own stimulus payment to Current Year Benevolence at Messiah Lifeways to support those who have outlived their resources through no fault of their own. Visit MessiahLifeways.org/giving to learn more and to give online, or contact me at rpease@messiahlifeways.org to inquire about your giving options. Checks can be sent to Messiah Lifeways, Office of Donor & Volunteer Development, 100 Mt. Allen Dr, Mechanicsburg, PA 17055.