Dear Supporters & Friends,
Messiah Lifeways' efforts to reach out and provide support for older adults in the broader community are important aspects of our ministry. They allow us to extend our mission and heart for service beyond those who reside on our campuses, as well as to caregivers. Messiah Lifeways At Home team members provide home care that includes companionship, housekeeping, errand running, grocery shopping, and more. The Adult Day program offers a nurturing environment for older adults who can't safely stay home on their own – which in turn provides caregivers much needed respite and support. And Mechanicsburg Place: A Senior Center & More is located in the heart of downtown Mechanicsburg, providing older adults with a hot meal every day and a place for connection, wellness, and fun.
These services provide compassion, care, and hope for those among us who need this vital assistance the most. And so, it broke our hearts when we had to temporarily close both Adult Day and Mechanicsburg Place. 
But, we continue to reach out to clients and caregivers in different ways to offer support during this time. This week's Spotlight on Philanthropy – "Stories of Hope" shines the light on a few of these outreach initiatives – and on one grateful couple who offered team members a special gift of thanks.
With gratitude & hope,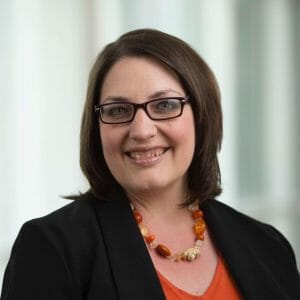 Rachel Pease
Senior Director of Development
---
24/7 Support Inspires a Creative Gift of Thanks
"My wife, Janice, has taken care of me for 60 years," At Home client/caregiver Lamar Light says with affection. "So it's been really challenging to figure out how to take care of her as she has faced a decline in her health in recent years."
Lamar and Janice managed independently for as long as they could, first in their home in Mechanicsburg and more recently in their Village Square independent living apartment. But after Janice spent some time in Wagner Short Term Rehab in the midst of this pandemic – made more difficult due to necessary restrictions on family visitation – Lamar decided to reach out to Messiah Lifeways At Home for round-the-clock support for Janice. This way she could come home but also receive the support she needs to stay safe and well.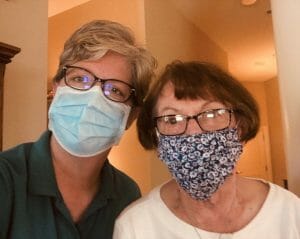 "It's hard to describe what taking this step has done for Janice…and really for me, too," Lamar says. "You just can't believe the joy I've seen in my wife since At Home caregivers like Heidi and Beverli have come to our home to work with her. They have taken time to discover what activities bring her happiness and purpose, and they have gone above and beyond to incorporate these things back into Janice's daily life."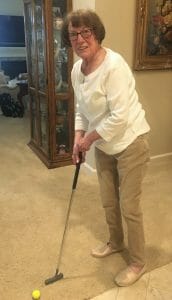 Caregivers regularly bring ingredients for special baking projects and enable Janice to bake delicious pies, brownies, and cookies for Lamar – just like she did for so many years throughout their married life. And, when Heidi discovered that Janice had been an avid golfer, she found an indoor putting green so that Janice could practice putting. This improves her stance, coordination, and stamina while bringing an element of fun into her days.
Lamar's gratitude for the exceptional care and support Janice receives inspired him to redeem a significant number of credit card points he has accumulated in order to purchase 82 gift cards which he donated to be distributed to caregivers and team members in recognition of excellent service. "It's the least I can do to say thank you," Lamar insists. "We are just so grateful."
---
Supporting Adult Day Clients & Caregivers – from a Distance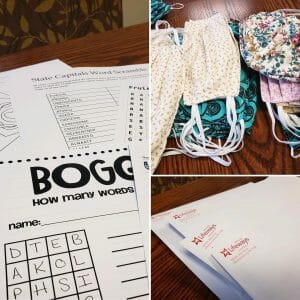 Messiah Lifeways Adult Day services are currently closed, and we know that clients and caregivers are missing the positive benefits that these programs offer. So, the Adult Day team compiled care packages made up of items designed to provide some of the same positive outcomes at home.
Cognitive Stimulation – One of the most important aspects of Adult Day programs is the improvement in cognitive function that is experienced due to activities and exercises that boost brain power. So, care packages included activity books, word games, and puzzles to help achieve this desired result.
Socialization – A caregiver once told us that enrolling her husband in Adult Day made her realize how much he had missed socializing with other people. Although he was more withdrawn at home, at Adult Day he became the social butterfly he had always been throughout his life. Therefore, care packages included games and snacks for caregivers and clients to enjoy together.
Safety – One goal of Adult Day programs is to offer a safe place for clients to spend their days. We want to continue to help keep clients safe, so we sent masks made by volunteers through the "Masks with a Mission" campaign to clients and caregivers to wear when they need to leave their homes during this pandemic. 
We hope the care packages offered to Adult Day clients and caregivers let them know that we are thinking of them, we miss them, and we look forward to welcoming them back to our campus as soon as circumstances allow!
---
Meals and Smiles for Members of Mechanicsburg Place: A Senior Center & More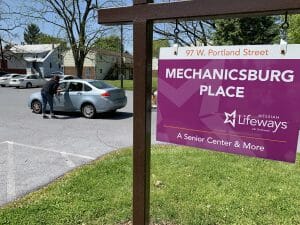 For many older adults, the local senior center is a vital part of daily life – offering a hot meal, wellness classes, social activities, and a pleasant place to spend time with friends. And with senior centers closed throughout the Commonwealth, older adults could face the prospect of hunger and loneliness as a result. That is why we were very happy that the Mechanicsburg Place: A Senior Center & More team has been able to partner with the Cumberland County Department of Aging and The Nutrition Group to continue to provide hot meals to members three times a week, along with extra food for the weekends.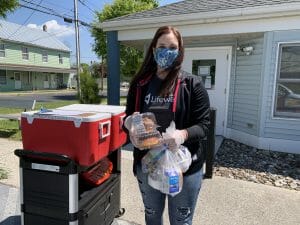 Team Member Danielle Reighter has spent hours delivering meals – rain or shine – and loves offering a smile and words of encouragement as she gives members their food. She has also made sure all members have cloth masks as they venture out for errands and essential trips to the store.
We can't wait for all of our services to resume normal operations. Until then, we will continue to do what we can to support and encourage clients, members, and caregivers however we can.
Want to extend your community outreach? Consider a gift to support these areas of the Messiah Lifeways ministry. You can support Adult Day or Mechanicsburg Place directly, or provide an unrestricted gift to support Community Support Services where the needs are greatest. Visit MessiahLifeways.org/giving to make your gift online or send your check payable to Messiah Lifeways Community Support Services to Messiah Lifeways, Office of Donor & Volunteer Development, 100 Mt. Allen Dr, Mechanicsburg, PA 17055. Contact me at rpease@messiahlifeways with any questions or to suggest a future "Story of Hope." Thank you for reading and take care!