Dear Supporters & Friends,
What is a hero? During this pandemic, the word has been used frequently to describe healthcare workers and other essential workers who are keeping our country moving forward during this challenging time. Appropriately, much attention has been given to thanking our local and national heroes.
While it may be new for the rest of the world to think of doctors, nurses, and essential workers as heroes, we at Messiah Lifeways® have always known that our team members are heroic. They do the hard but sacred work of providing care to residents who can no longer care for themselves. They keep rooms and common spaces sparkling clean and wash countless sheets, towels, and items of clothing. They create beautiful, delicious meals that nourish and sustain the community. They offer prayer and spiritual support to loved ones who are facing some of the saddest days of their lives. And there are heroes in every department who quietly and faithfully show up each day and do their best, all while trying to be a better person today than they were yesterday. 
In this week's Spotlight on Philanthropy – "Stories of Hope," we shine the spotlight on a few of our everyday heroes and the generous ways residents and family members have thanked and celebrated them.
Perhaps these stories will inspire you to take a moment to thank a hero in your own life.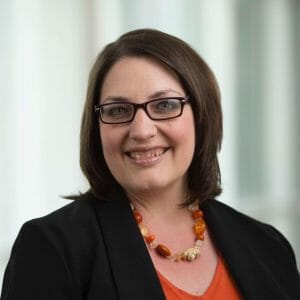 With gratitude & hope, 
Rachel Pease
Senior Director of Development
---
Meet Jess Toner – Messiah Lifeways Infection Preventionist
Messiah Lifeways has been fortunate to not be hard hit by the pandemic at this present time. In many ways, we have the clear and decisive leadership of Jess Toner to thank for that.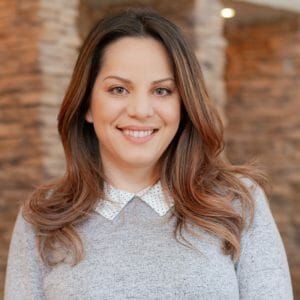 When Jess joined the Messiah Lifeways community as Assistant Director of Nursing and Infection Preventionist in 2019, she was excited for the challenge but could never have predicted what awaited her in her first year! In the crucial early days of this pandemic, before many of our peer communities were taking action to restrict access and limit visitation in skilled nursing neighborhoods, Jess recommended the protocols that have proven effective in keeping our community safe. She has remained focused on one primary objective: keeping the virus out to keep residents healthy. Often this has meant making difficult decisions, but Jess has done so with courage and conviction.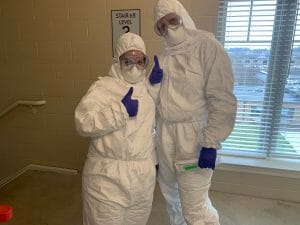 "A lot of what I do is preparation, education, and research," Jess says. "The difficult part about this is that everybody seeing it is basically learning as they go. So, we're trying to find the best interventions and create best practices in real time. That's what makes it difficult. With a novel virus, the big issue is trying to stay on top of all the new science and all the new information, research, and education." 
At the end of the day, every decision Jess and the extended team makes is out of love and concern for the residents. "I love getting to know the people I'm taking care of," Jess shares. "I get to know the residents by their name, their life stories, their preferences…and I love helping them through the later stages of their life, making sure every day is meaningful."
There's no doubt that Jess is a Messiah Lifeways superhero. Read more about her background and accomplishments here.
---
Stepping up to the Plate – Team Members Take on New Roles
With many of our normal day-to-day functions temporarily paused, team members in all areas have stepped up to help in new ways. Today we shine the spotlight on two of our everyday heroes who have stepped out of their comfort zones to do what is needed. 
Jasmine (Jazzy) Chester – Adult Day Services to Upper Laurel
Jazzy usually spends her days leading activities and other programs in Adult Day services. Since our Adult Day programs are closed, Jazzy gladly took on a reassignment in the Laurel neighborhood and has spent her days helping with activities, taking residents for walks to enjoy some fresh air, and assisting with meal time. Holly Zweiacher, Enrichment Specialist, is grateful for the extra help and says, "Jazzy does a wonderful job! It is such a blessing to have an extra set of hands to help out and to interact with residents." 
John Hanes – From Shuttle Driver to Central Receiving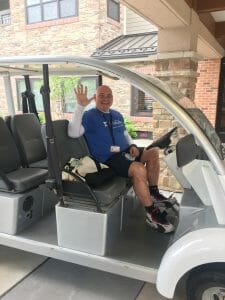 If you've ever ridden the campus shuttle, you've likely been greeted with a friendly hello from John Hanes. John has been part of the Messiah Lifeways community for two years, and he loves getting to know the residents and hearing their stories while he drives them from stop to stop. These days, John is putting his knowledge of our campus to good use while helping out in Central Receiving. With an increase in campus deliveries and additional sanitization protocols for those deliveries, John stays busy and is glad to do what he can to help us through this crisis. His supervisor, Jason Grable, says "John is an upstanding and hardworking employee who is willing to sacrifice much of his time for the benefit of our community."
---
A Gift of Gratitude for Team Members
The Messiah Village Residents' Council typically raises funds for the Team Member Christmas Fund as a way to bless team members during the holiday season. But given the enormity of the dedication and sacrifice that team members are making to keep residents cared for and safe during this pandemic, the leadership of the Messiah Village Residents' Council and the Auxiliary organized a special thank you gift for team members. Together, they raised more than $80,000 to provide $115 Giant gift cards to all team members (including contracted services such as dining, security, and physical therapy).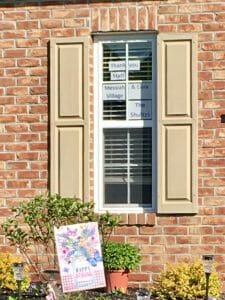 "We see you. We see you rising to the occasion, taking on different responsibilities, and working long hours. We see you donning masks, face shields, and protective equipment in order to provide care. We see you dropping off meals, delivering packages, and keeping the campus looking extraordinarily beautiful. We imagine all the extra hours devoted to sanitizing surfaces and laundering clothes and bedding. We appreciate the extra effort given to dreaming up socially-distanced activities for nursing and enhanced living residents while also providing wellness videos and other entertainment on MVTV for all of us. We are grateful for wise decision making and thoughtful communications." – Eileen Snyder, Residents' Council Chair and Ernie Kohlstruk, Auxiliary President
Gift cards will be distributed to team members by the first week of June. Already, words of appreciation are pouring in.
"This is an amazing show of gratitude to our Messiah teams. Bless their kindness and giving spirit."
"What wonderful news! It helps so much to know that team members' extraordinary efforts are being recognized by residents and families."
"This is truly amazing news! Wow. Just wow! We have such giving and kindhearted people in our community."
"The Donegal team is truly grateful and surprised!"
"Wow! That's so awesome of our residents and families! I am humbled by such gratitude."
"Speechless here."
THANK YOU to the residents and family members who gave generously to bless our hardworking team members – it is appreciated more than you know.
Want to thank our heroes? Consider an unrestricted gift to our ministry, which allows us to attract and retain dedicated team members like the ones showcased here. Visit MessiahLifeways.org/Giving to give online or send your gift to Messiah Lifeways, Office of Donor & Volunteer Development, 100 Mt. Allen Dr, Mechanicsburg, PA 17055. Contact me at rpease@messiahlifeways.org with any questions or to suggest a future "Story of Hope."