Dear Supporters & Friends,
Human beings are wired for connection. Extroverts and introverts may seek out that connection in different ways and in varying degrees – but we all value relationships with those closest to us. 
So, missing out on visiting loved ones has likely been the hardest part of the last 12 weeks for most of us. As restrictions at Messiah Lifeways® at Messiah Village begin to ease now that we are in the Commonwealth's Green Phase of reopening, many of us can gradually resume being together with friends, family, and neighbors – with proper precautions in place, of course.
But I want to share that, although we have missed our usual ways of connection, relationships have still been fostered and cultivated over these last twelve weeks in a variety of ways. Phone calls, virtual visits, cards and pictures sent from all over the country and displayed on MVTV, special gifts dropped off with love…through it all, this community has found creative ways to be together in spirit while being physically apart. 
Maddie Lowery, Social Worker in the Asper Special Care Neighborhood, sent me an email last week that I want to share with you:
"I can't be more grateful for our incredibly strong and loving families who have been so supportive to our team members and to their loved ones on a daily basis. They have handled this difficult situation with such grace and positivity. I have witnessed countless families go above and beyond to be there for their loved one in the best ways that they can under the circumstances. Based on how much I normally see families come in for visits, I truly can't imagine how challenging this is, but with such strong support and so much love in everybody's hearts, I feel hopeful we will continue to take each day the best that we can and continue to work together to get through this!"
In this week's Spotlight on Philanthropy – "Stories of Hope," we shine the spotlight on some creative ways that connections have been and will continue to be fostered…and on a gift from a local foundation that is connecting community donors with the team members and residents at Messiah Village.
With gratitude & hope,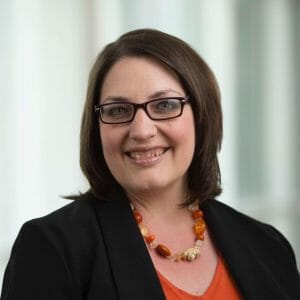 Rachel Pease
Senior Director of Development
---
"Connection Booths" Constructed in Village Center
There is nothing like visiting a loved one in person, and we know how hard it has been for family members who haven't been able to visit residents in Skilled Nursing and Enhanced Living. Now that restrictions are beginning to ease, we are delighted that our very own Director of Construction Services, Mel Miller, has constructed two Connection Booths to allow for in-person visitation in Village Center!
There are a number of resident couples who live in different levels of care; for instance, one spouse may live in a cottage while the other spouse lives in a skilled nursing neighborhood. So, the first Connection Booth visits have been devoted to spouses. There were many tears of joy on Friday, June 12 when the first four couples had a chance to visit and test out the booths! Now that the first visits have gone smoothly, our plan is to open up the schedule so that all residents in Village Center have the opportunity to reconnect with their next of kin in this way.
Located at the Bailey Street and Chapel entrances in Village Center, these Connection Booths offer a safe way for residents to connect in person with loved ones. We hope these Connection Booths will help bridge the gap until we are able to allow unrestricted visitation once again.
---
"Share a Smile" Campaign Results in Hundreds of Cards, Pictures, and Smiles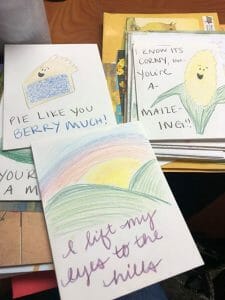 How many of us intend to send a card to a parent, grandparent, or other loved one but never get around to it? I know I am guilty of this! During this pandemic, one positive thing has been the outpouring of love and support from people across the country. Perhaps being restricted from so many of life's normal activities has provided the margin in our days that has allowed us to be more thoughtful and intentional in reaching out.
Early on, we asked residents, donors, volunteers, and the surrounding community to "Share a Smile" by sending emails, pictures, and cards to the Office of Donor & Volunteer Development. Over the last three months, we have received hundreds of emails, cards, poems, pictures, jokes, children's drawings, photos of family milestones, inspiring Scripture verses, and messages of encouragement to be shared with members of the community via our in-house TV system, MVTV. This is in addition to the larger-than-usual volume of mail sent directly to particular residents from their family members and loved ones. Daybreak Church in Mechanicsburg even arranged for a card campaign that not only provided a card to each and every skilled nursing resident, but also collected individual prayer requests as well.
It is likely that many residents have heard from more family members than usual during this hard time! We hope these increased connections and thoughtful gestures continue as a welcome part of our "new normal" even after the crisis has fully passed.
---
$2,500 Grant Connects Community Donors with Messiah Lifeways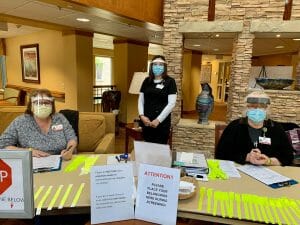 The Foundation for Enhancing Communities, headquartered in Harrisburg, PA, has partnered with the United Way of the Capital Region to create the COVID-19 Community Response Fund. Individual and corporate donors in the region have given to this fund to allow TFEC to award emergency grants to area nonprofits who are "responding to the spread of COVID-19 and experiencing financial challenges by doing so." 
We are pleased to share that TFEC recently awarded Messiah Lifeways at Messiah Village with a $2,500 grant (the maximum award amount) to help meet the increased costs associated with providing protective equipment for team members.
The costs associated with responding to COVID-19 have been substantial. All team members with direct resident contact are required to wear a procedure mask for their entire shift. Plastic face shields – some purchased and some donated by Harrisburg University – have also been provided to team members in skilled nursing, enhanced living, and those staffing the screening table. Full personal protective equipment (PPE) and N95 masks are provided to team members conducting COVID-19 tests. And of course, there has been a significant increase in costs related to providing enhanced sanitation, hand sanitizer stations, and disinfectant wipes for all departments.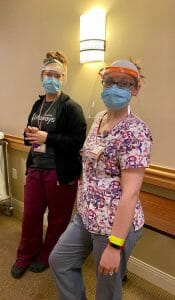 "I am grateful to everyone who has generously supported the COVID-19 Community Response Fund through The Foundation for Enhancing Communities," CEO Curt Stutzman says. "The grant monies awarded to Messiah Lifeways will be used to purchase personal protective equipment (PPE) for the nurses, aides, dining, and other direct care team members who care for residents each and every day. These team members are on the front lines of the battle against COVID-19, valiantly doing all they can to keep residents in the skilled nursing and personal care neighborhoods safe and protected. We are very grateful for the support of our mission and our team members during this challenging time."
Love what you're reading and want to support our ministry? Consider supporting Benevolent Care at Messiah Lifeways to provide the most important connection of all to those who have outlived their resources through no fault of their own. Visit MessiahLifeways.org/giving to learn more and to give online, or contact me at rpease@messiahlifeways.org to inquire about your giving options. Checks for Current Benevolence or the Endowment Fund for Benevolent Care can be made payable to Messiah Lifeways at Messiah Village and sent to Messiah Lifeways, Office of Donor & Volunteer Development, 100 Mt. Allen Dr, Mechanicsburg, PA 17055.