My wife Kathy and I are at the stage of family life where grandchildren have become a blessed addition. Jonah and Cooper (age 4 and 3) are a joy to be around and say many interesting and often humorous things. They have reached the stage of being inquisitive about the world and often ask questions including the word, "Why?" It's an important question to ask! Gaining an understanding of the reasons for things helps give meaning and purpose to the things we do. It's the same in organizations like Messiah Lifeways.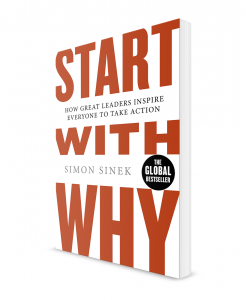 Start with Why: How Great Leaders Inspire Everyone to Take Action by Simon Sinek. The author highlights the importance for leaders to be champions of the "why" as it is the "why" that inspires others to take action. Without an underlying sense of purpose in mind, it is difficult for the team to fully engage in what and how they do what they do. A major role for a CEO is to inspire others to do what inspires them. If the mission of an organization is understood by the members of the team, and is attractive to them, it is much easier to see their role as having intrinsic value beyond the paycheck.
Sinek says that "innovation happens around the edges." I like what he writes relating to this:
The role of a leader is not to come up with all the great ideas. The role of a leader is to create an environment in which great ideas happen. It is the people inside the company, those on the front lines, who are best qualified to find new ways of doing things. (p 99)
I believe that when team members own the mission in their hearts and are then invited to participate in making things better, that good things will happen. Even in an environment as highly regulated as healthcare, there can be opportunities for front line team members who truly understand the purpose in what we do to use their creative minds to offer good ideas that haven't been thought of before.
My hope for Messiah Lifeways is to present a clear sense of purpose in what we do, to invite people inspired by that purpose—the Why—to identify and communicate creative ways to walk out that purpose for the benefit of those we serve. I know this will likely require new ways to look at things or to reward this behavior. It may take some time, but we cheat our mission if we don't use all means available to do the right things better.
So, should we take Sinek's charge to start with why? Well, why not?!
Curt Stutzman