Review & Post by Megan Blashford
---
As I prepared to make a 6 hour road-trip to West Virginia accompanied by my favorite golden retriever co-pilot, I searched for something that would help pass the time. Music is always a great option but, I feared that 6 hours of me poorly singing country music would be harmful to both my self-esteem and my dog's "she can do no wrong" feelings towards me.
So, I searched on iTunes for a good audiobook that would keep me engaged for several hours. Under the "Great Books for Under $6" section, I discovered the book "Still Alice" by Lisa Genova. The synopsis read about a successful professor from Harvard University who struggles with her new diagnosis of Alzheimer's disease. I excitedly clicked download and got into my car for the long trip ahead.
The story begins by explaining that Alice, the fictional main character is a professor who has pioneered many of today's modern theories on communication, linguistics, and language. As the keynote speaker for seminars all over the world, Alice finds herself in the middle of a speech in front of hundreds of people – and is unable to find the word "lexicon." This begins the downward spiral of more and more episodes including being lost two blocks from her own home, forgetting to board a plane for a long-planned trip, and not remembering the recipe for a nearly 30 year family traditional meal.
With building concern, Alice goes to a neurologist and is diagnosed with early onset Alzheimer's disease at the mere age of 50. Her quest continues as she comes to grips with the reality that in a few years, she may not even remember her favorite memories with her husband, her children's names, or even be able to feed herself.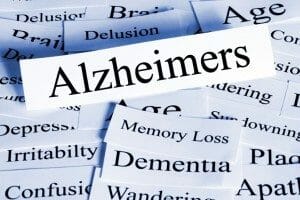 Since my job revolves around individuals with moderate to severe cases of Alzheimer's and dementia, I found this book thought-provoking to see the individual and family struggles of being diagnosed with memory impairment. Although tragically sad, Alice Howland's story can be insightful to those who are dealing with a questionable diagnosis, have already gone through the process, or are just interested in the world of Alzheimer's disease and treatment options. The quote below proves to be a meaningful and striking realization of someone in the early stages of Alzheimer's disease – questioning what life will be like just months from now.
"And I have no control over which yesterdays I keep and which ones get deleted. This disease will not be bargained with. I can't offer it the names of the US presidents in exchange for the names of my children. I can't give it the names of state capitals and keep the memories of my husband. …My yesterdays are disappearing, and my tomorrows are uncertain, so what do I live for? I live for each day. I live in the moment."
https://www.amazon.com/Still-Alice-Lisa-Genova/dp/1439102813/ref=sr_1_1?ie=UTF8&qid=1349107442&sr=8-1&keywords=still+alice