Family man, world traveler, lifelong educator, and retired high school administrator. Richard "Dick" Nickle is known for many things – but quitting isn't one of them. On Super Bowl Sunday in 2000, Nickle was clearing his driveway of snow when a drunk driver hit him and continued driving with Nickle on the car.
The impact of the crash sent his snow blower onto a neighbor's porch. Dick suffered a heart attack, stroke, and traumatic injuries and endured major surgery and a lengthy hospitalization that "seemed like forever." His right leg is supported with a metal rod and his left leg ends halfway between his knee & ankle. He credits surgeons at Penn State Hershey with the gift of an air vacuum prosthetic leg that fits more comfortably, but life as an amputee isn't easy. "Some people think life is over, but it's not."
Writing a New Chapter
Dick's resilience led him to start the Amputee Support Team of Central PA, whose motto is "So others may benefit from us." Their vision is to empower members, families, caregivers and friends to optimize the care & well-being of amputees in our area. Dick knows the journey is hard; but he and his wife Barbara are using their experience to shower compassion and support on others. As a client of the Messiah Lifeways Adult Day program in Carlisle, PA, Dick uses humor to connect with fellow clients. He enjoys crafts and projects that require collaboration; "there's still so much we can accomplish."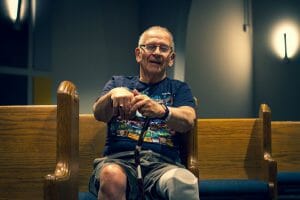 Dick finds that much of the wisdom he gained as an amputee applies nicely to the Adult Day program – "you have to be a good listener and trust the people who are helping you." Dick devoted more than 40 years to educating students at Cumberland Valley High School and now he's teaching all of us an important lesson about perseverance and the power of positivity.
To learn more about our Adult Day programs in Mechanicsburg & Carlisle, please click [here].