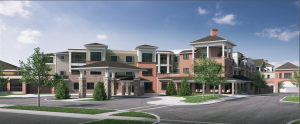 As Messiah Lifeways embarks on a 20-year journey known as Project Envision, Village Square will be an integral part of the growing Messiah Village campus and community located in Mechanicsburg, Pennsylvania. Rooted in Cumberland County, currently the state's fastest growing among all 67 counties, Village Square is poised to attract older adults both locally and out of town looking to settle in this exciting, historic and charming region. Upon its completion in 2017, Village Square will consist of 84 new apartment homes in a 220,000 square-foot complex that will also feature two new restaurants, a state-of-the-art pool and fitness club, spa, and 300-seat enrichment center.
[av_promobox button='no' label='Click me' link='manually,https://' link_target=" color='theme-color' custom_bg='#444444′ custom_font='#ffffff' size='large' icon_select='no' icon='ue800′ font='entypo-fontello' box_color=" box_custom_font='#ffffff' box_custom_bg='#444444′ box_custom_border='#333333′]
The Harrisburg Carlisle region was recently named by Milken Institute as the 31st best large metropolitan area for successful aging based on quality of life indicators and services available to older adults. [click to see full report]
[/av_promobox]
Older adults who have lived in this area, who will soon call Village Square "home," can tell you that the Cumberland Valley/Capital Region is a very vibrant, burgeoning and friendly community. And for those age 55 and better not as familiar with South Central Pennsylvania who are also looking to make the move to Village Square, this area truly offers the best of both worlds – offering "big city" features while being charming and livable no matter your age.


A multitude of amenities, activity and interest abound within minutes of the Messiah Village campus – from fine arts and fine dining to farmers' markets and fly fishing. This area has a rich history and a budding future. Our friends from visitCumberlandValley.com and visitHersheyHarrisburg.org provide a tremendous view of things to do, to see, to experience and to be a part of stretching across the Mid-state, such as:
As I personally learned, having moved here nearly 20 years ago, another great advantage of this area is that it is truly centrally located and convenient to many big cities and attractions.
For instance Harrisburg to:

Baltimore's Inner Harbor – 1½ hours
Gettysburg Battle Fields– 45 minutes
New York City – 3 hours
Philadelphia – 2½ hours
Pittsburgh – 3 hours
Washington DC – 2 hours
Making a move at any stage in life can be a challenge. But I truly believe as people begin to examine their options and opportunities as they grow older, Village Square coupled with the charm, comfort and location of Central PA, one can feel very good about deciding to move here and calling it home.
————————————————————————————————————————–
If you would like to learn more about Village Square, please call 717.591.7224 or visit  MessiahLifeways.org/visitvillagesquare.